Jessica's Costume History Page |
home







Pattern Cover and Brief Description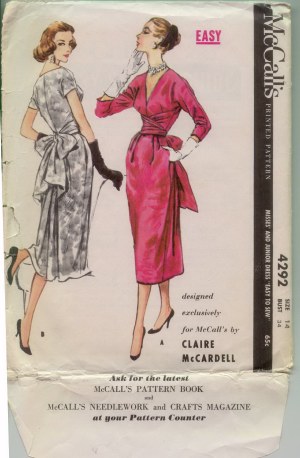 11.1 Dress(1)
7.1 Hat
12.5 Dressmaking Materials
11.1 Dress(1), 1957, Cocktail Dress, pink velvet, metal placket zip fastener, side sashes with buckle fastening, homemade by Eleanor House Smith, Richmond, Rhode Island.
7.1 Hat, c.1957, Pink Velvet, pink voile trimmings, pink satin lining, originally worn by Eleanor House Smith with above dress.
12.5 Dressmaking Materials, 1957, "McCall's #4292" Printed Pattern, 8 pieces, Misses' and Junior Dress "Easy to Sew", designed by Claire McCardell, American.